With a major shake-up of the NHS being implemented just a few days previously ‒ as Integrated Care Systems went live ‒ P4H England 2022 was sure to have plenty of talking points, and it certainly did not disappoint.
One of the largest gatherings of healthcare procurement professionals that P4H has ever hosted, this year's event was a huge success.
After two years of limited face-to-face meetings, P4H England bounced back with people delighted to be meeting up again and some experiencing their very first procurement event.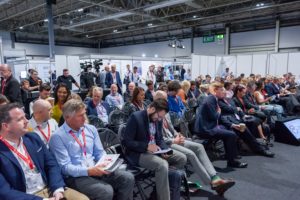 The mood across the exhibition hall was incredibly positive, with delegates, exhibitors and speakers enjoying a full day of knowledge sharing, innovation and best practice.
Change & resilience
Change, resilience, social value and sustainability were key talking points across the whole arena.
The Keynote Arena was standing room only for every one of our speakers, while both the Procurement Skills and Supply Chain & Innovation Zones were also busy all day, with delegates learning about tendering in the healthcare sector and how procurement is changing across the sector.
We were delighted to welcome speakers from across the NHS and the Health Care Supply Association (HCSA) to our keynote stage, which was hosted by Chair Alyson Brett, Chief Executive Officer, NHS Commercial Solutions, who commented: "The NHS is going through a period of incredible challenge and transformation as we wrestle with the ongoing effects of the pandemic, supply chain vulnerabilities, structural change and rising costs.
"But adversity is a powerful driver of progress and there are exciting opportunities ahead of us too.
"If Covid has taught us anything it is that we are incredibly resilient and can overcome any obstacle or barrier in our path."
Hitting targets
The opening address was given jointly by David Williams, Director of Procurement, NHS England and NHS Improvement, and Preeya Baillie, Director of Procurement Transformation and Commercial Delivery, NHS England and NHS Improvement, who both talked to a packed house about sustainability and resilience within the NHS supply chain, current legislation changes, and the lessons learned from the pandemic.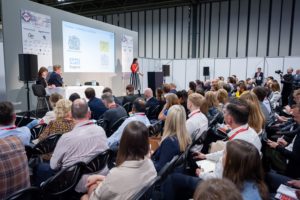 Andy Windsor, Commercial Director at NHS Supply Chain, also held a popular session, discussing how NHS Supply Chain is critical to delivering value for the NHS, which will result in better patient outcomes. He was followed by Keith Rowley, Managing Director, NOE CPC & Chief Officer, Health Care Supply Association, who gave an interesting insight into the view from the NHS Procurement Profession, and learning to adapt and change to a new procurement regime as the Procurement Bill is introduced.
Delivering efficiencies
While the world listened to a certain resignation speech, the delegates at P4H were fully focused on the session hosted by Simon Walsh, Group Procurement Director & Joint GM Procurement Lead, Manchester University NHS Foundation Trust and what he had to say about NHS procurement and how top-quality procurement and trained staff can help deliver efficiencies and savings.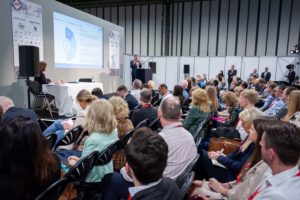 Interest did not wane as we introduced our final speakers of the day, as the arena remained crowded. Michelle McCann, Director for Sustainability at NHS London Procurement Partnership, focussed on tackling sustainability within the procurement arena and the NHS journey to net zero ‒ an increasingly important part of the NHS ‒ and about how suppliers can help achieve these ambitions.
Finally, Liam Horkin, Head of Clinical Procurement with East Suffolk North Essex NHS Foundation Trust, who talked about the impact procurement can have on the NHS, patients and staff.
Officially supported by NHS Supply Chain
P4H England is officially supported by NHS Supply Chain. Visitors to the NHS Supply Chain Pavilion met with NHS Supply Chain representatives to learn more about the work they do and how organisations can supply to the healthcare sector. The Pavilion, as always, was incredibly popular, with many delegates keen to know the latest procurement opportunities and tendering best practice.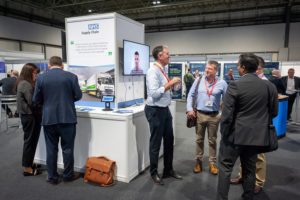 NHS Supply Chain manages the sourcing, delivery and supply of healthcare products, services and food for NHS trusts and healthcare organisations across England and Wales.
Skills & learning
Another huge draw on the day was our skills and learning zones, where experts provided invaluable advice on tendering in healthcare. Phil Kinnell, Senior Procurement Consultant, PASS Procurement and Eddie Regan, Principal Consultant, PASS Procurement, hosted several sessions which will help suppliers put together more attractive bids.
Specialised sessions on social value and sustainability were also held. Social value is becoming more important within public sector procurement, while improving sustainability across suppliers will help the NHS achieve its net zero ambitions.
Sustainable supply chain
Martin Toomey, Sustainability Manager for NHS Supply Chain, held a popular session on delivering a sustainable supply chain. Later on, we saw Stuart Watkins, Health Strategy Manager at Crown Commercial Service, talk about taking a pragmatic approach to securing sustainability outcomes through procurement?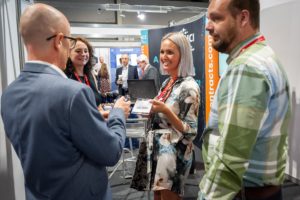 Exhibitors in our Product Showcase area were kept busy throughout the day, showcasing innovations and solutions to a stream of visitors. The showcase provided an invaluable opportunity to engage and develop new and existing partnerships with a wealth of leading suppliers who are actively delivering a diverse range of innovative products and services that can support both current and future procurement requirements.
The sheer range of suppliers and innovations available for the healthcare market is a good indicator of the volume and diversity of opportunities available within the market.
For more information on P4H and to register your interest for next year click here.