Over 150 guests attended BiP Solutions' glittering 35th Anniversary Gala Celebration Dinner on 25 January.
The black tie event, held in Glasgow's Grand Central hotel, started with a champagne reception before, in true Burns Night fashion, the night opened with an "Address Tae The Haggis".
The evening brought together colleagues from both the Glasgow and Manchester offices, as well as many special guests drawn from those who have collaborated with and supported our company over the years.
The night was also a prime opportunity to recognise the hard work of many colleagues past and present.
Some special congratulations were saved for the new members of BiP Solutions 15 years' service club who have been gifted a European city break from our company – thank you all for your dedication and loyalty over the years.
Congratulations again to the following employees that have reached this momentous landmark in their career at BiP Solutions:
Sophie Agrell, Senior Proofreader
Roberta Brady, Account Manager
Johan Kerr, Executive Board PA
Melanie Macfarlane, Sales Ledger Clerk
Tony McCann, Distribution Assistant
Leigh McEwan, Senior Data Analyst
David McGill, Distribution Assistant
David Vance, Distribution Assistant
Lynne Scott, Research and Content Team Leader
Eddie Regan, Principal PASS Procurement Consultant, who has worked with BiP for over thirty years, gave a speech dedicated to the company's  founder, Ron Burges. Eddie spoke about his fond memories of the early days of the business, when BiP Solutions was run first from a humble portakabin and then from a small office in Woodlands Terrace in Glasgow's west end – showing just how far the company has come and how much has been achieved over three and half decades. He then presented the Executive Chairman with the "35 Years of Innovation and Excellence Award", which Ron was more than delighted to accept.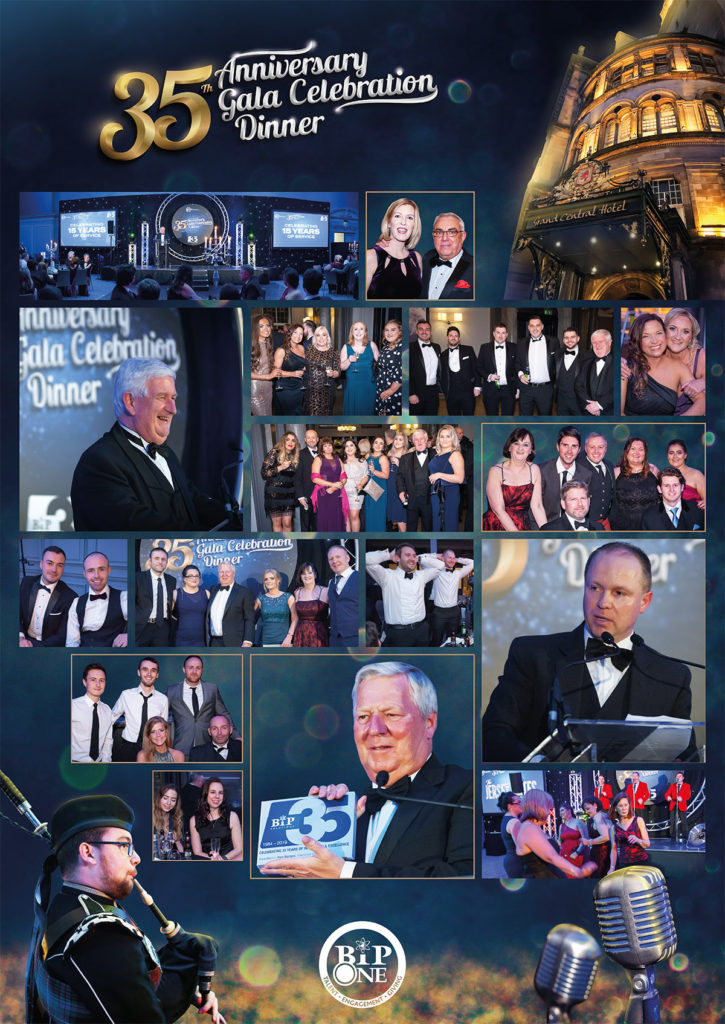 After the awards presentations, the night's entertainment commenced. Paul Martin, one of the UK's leading magicians, opened the show, with the 'Jersey Notes' serenading staff and special guests late into the Friday evening.
Overall the night was a triumphant success and our management team would like to thank everyone who contributed to the evening programme. We would also like to thank all the guests who joined us on the evening – here's to another 35 years of success!
Reflecting on the evening and on the company's 35th anniversary, BiP Solutions' CEO, Simon Burges, said:
"I am sure that all guests who attended enjoyed our Anniversary Gala Dinner, as did I.  As always, it was great to have the collective staff group together to mark this special occasion.
This event commenced the celebrations for BiP's 35th Anniversary year, an achievement that has only made possible through the collective contribution of all current and past staff from across all areas of the business.
This is a special year and an exciting time for our business with lots to come in 2019. We very much look forward to sharing more details about this in the months ahead."
If you would like to learn more about BiP Solutions or find out more about the job vacancies that are currently available, visit our website: www.bipsolutions.com