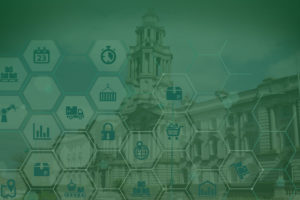 New market report considers local government trends, challenges and opportunities in a digital world
Download your exclusive copy of the report here.
Today, BiP Solutions is pleased to launch the second in our series of reports focusing on the changing landscape of public sector procurement. Our latest report considers the impact of this changing landscape for local government in an ever-evolving digital world.
The publishing of the Government's Transformation Strategy effectively kickstarted the journey of digital transformation for Government with many local authorities taking advantage of the components available to them through GOV.UK.
In fact, across local government today, digital transformation is playing a significant role in meeting the needs and expectations of citizens. In light of this, our report considers the key digital trends and innovative approaches transforming service delivery for citizens. It also considers current spend within local government, with a particular focus on IT/Digital spend, and also draws on findings from recent research conducted by our colleagues at iGov Survey to highlight the specific procurement challenges and opportunities facing local government and the wider public sector.
Eddie Regan, PASS Training Consultant at BiP Solutions, said of this research:
'The timing of the latest iGov Survey is quite appropriate, given the current uncertainty about Brexit and the continual questions about what impact it may or may not have on public procurement.

Early engagement, innovation and emerging new technologies all have a massive role to play in the future direction of public procurement. The public sector cannot afford to fall behind and this research highlights that whilst the sector is moving in the right direction, more does need to be done to upskill procurement teams and develop effective supplier relationships that deliver true value for all involvement in the procurement process, including and not forgetting, service users.'
Our report also reflects on our recent Procurex Events in Wales and Scotland and considers key ways take to get ahead if you are looking to tap into the local government marketplace, regardless of your prior experience of procurement.
To read the report in full, please access your personal copy here.
To find out more about our solutions, please visit: www.bipsolutions.com