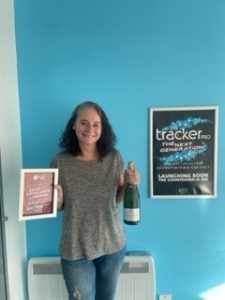 At our BiP One Recognition Awards for Q2, we are delighted to announce that the winner of the Sales Excellence Award was Dawn MacTaggart.
Lets hear from Dawn's line manager Alan McMenemy who is the Head of Sales here in Glasgow…
"Dawn was nominated for this award for many reasons. First and foremost, she's hit her quarterly target, and hit target for each individual month as well. She also navigated her way around a two-week break in the middle of the quarter and managed her own pipeline effectively to allow for this. Dawn has also been an early adopter of our new BI product suite, and got the first HCI, Tracker-Pro and Contact Data sales. She's been able to do this by fully investing and immersing herself in the product. Dawn also led the line at P4H and Procurex Scotland, and delivered keynote speeches at both. Last, but not least, Dawn has been really open to coaching and adapting her style to GAP methodology over the past three months. An outstanding nomination for, and worthy winner of, our Q2 Sales Recognition Award."
Well done Dawn!! Very well deserved.