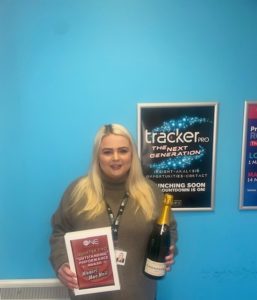 Our second winner of the BiP ONE Recognition Awards for Q2 was our lovely Event Coordinator Mhairi MacNeil who won the Outstanding Performance Award.
Mhairi's line manager Laura Aitkenhead had a few words to say…
"Mhairi moved into a new role in the events team only three weeks before the start of our event season in Q2. The job and skill set are very different to her previous role, however Mhairi jumped straight in and picked up the GO Awards Scotland and Wales, showing a passion for these projects, and a commitment to making them the best events possible. She worked with stakeholders across the business to ensure all requirements were met, showing after only a short space of time, a clear understanding of the key aspects of this new role. Mhairi really stepped up to the mark and I'm delighted to have her as Co-Ordinator in the Events Team"
Congratulations Mhairi!