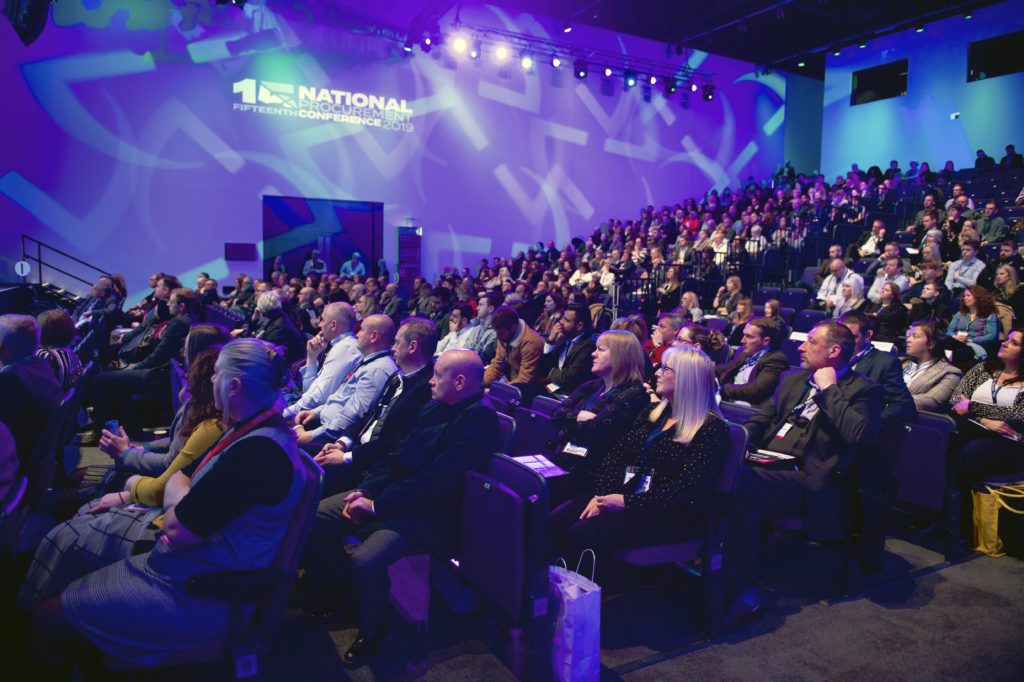 One month on from Procurex Scotland 2019 and the 15th Annual Scottish Government National Procurement Conference, held this year on 29 October at the SEC Glasgow, we look back at some of the major themes of the day. The event saw some of the key current and future trends for procurement discussed in depth, and among the most prevalent themes was environmental impact.
Climate change and environmental impact are issues that are increasingly being addressed in many aspects of business as well as people's everyday lives. Given the increasing focus on social value in procurement, and the awareness that how organisations choose to spend their money can have major impacts, it is perhaps not surprising that the role procurement can play in combating climate change has increasingly come to the fore.
Managing resources
Kate Forbes MSP, Minister for Public Finance and Digital Economy, began the Scottish Government National Procurement Conference with a keynote address focusing on "the power of procurement." Introduced by the day's chair, Scotland Tonight's Rona Dougall, as "having long been a champion of the environment," Ms Forbes stressed that "we have a collective responsibility to our social and economic wellbeing."
Her ministerial address emphasised two key message that were to be repeated throughout the day: that the purchasing decisions procurement leaders make have a real power to influence change; and that contributing to local economies, addressing global issues like climate change and long-term business growth are not contradictory aims. Ms Forbes pointed to ideas such as challenging the "need to buy" – as reduction in resource consumption contributes to both environmental and economic sustainability.
Malcolm Harrison, Chief Executive Officer at the Chartered Institute of Procurement and Supply (CIPS), also discussed sustainability and environmental issues in his speech on some of the most pressing issues for supply chain management. "We as procurement professionals have an incredible responsibility to look at how we use limited resources," Mr Harrison said, once again emphasising the power that procurement professionals have to influence change. However, Mr Harrison also urged attendees not to "get caught up in the plastics debate." While not attempting to downplay the environmental impact of plastics, particularly for oceans, Mr Harrison was keen to suggest that there are areas where plastics are in fact essential. He cited transport of time-sensitive medical products as an example of "a good use of plastics," suggesting that the aim should not be to remove plastics altogether from supply chains, but to be critical and reflective of how they are used – reducing rather than eliminating their use. Mr Harrison concluded that, in light of environmental concerns as well as other ethical issues facing procurement, "this is a challenging environment for the profession – but it's an exciting time."
To address sustainability concerns, and understand how scarce or impact-heavy resources are used throughout their supply chains, it is important that public sector buyers have greater visibility of their entire supply chains. Supporting buying organisations to manage every stage of the tendering process and supply chain in a single solution, Delta eSourcing allows for greater end-to-end visibility of supply chains, giving greater transparency. Learn more about Delta here.
Showcasing success
Reiterating Kate Forbes' earlier address, Caroline Colliston, Chair of the Business Leadership Group of the Scottish Business Pledge, made clear in her talk at the Scottish Government National Procurement Conference that "sustainability and long-term business growth are not competing objectives." Ms Colliston used the image of a ripple becoming a wave, noting that small changes can add up to wider trends. Her talk pointed out that business decisions with an environmental impact do not only include large purchasing decisions, but also choices such as which hotels are booked for business travel – if travel is necessary.
Rounding off the main talks at the Scottish Government National Procurement Conference was a presentation from Kersti Berge, Director of Energy and Climate Change at the Scottish Government. Ms Berge began her talk by "going back to the science," showing several graphs that illustrated the scale, speed and severity of climate change and "proving conclusively that human activity is a big factor." Ms Berge also emphasised that climate change is not a remote issue for procurement, with the widespread wildfires in California in 2018, and Australia in 2019, causing billions of dollars' worth of damage. Ms Berge pointed out that, for example, insurance costs will rise dramatically for businesses with the increasing likelihood of extreme weather events.
Although Scotland is already world-leading in terms of taking steps to tackle climate change, thanks to Scottish Government legislation, Ms Berge said that, for the sake of business as well as the wider world, "we all have a role to play." She pointed out that annual procurement spend in Scotland adds up to £11bn, and so can have a huge influence on the wider agenda. Inviting organisations to "mainstream" their successes, Ms Berge suggested procurement leaders "start early and think strategically to reach people who can influence," to help cascade change throughout supply chains. She pointed out that there are many ways that small strategic changes can have a wider influence – for example, reducing the number of deliveries through reduced demand for goods or services means fewer vehicles on the roads and, in turn, reduced emissions. Although Ms Berge ended with a stark warning about the dangers of climate change for potential future generations, she also encouraged organisations to realise the scale of influence they can have – inviting them to "showcase your success."
Early engagement – beginning conversations ahead of the formal tendering process – can help organisations share their successes and establish a position as a thought leader, even potentially influencing the factors that buyers consider in specifications. These kind of broader discussions than might be possible during the tendering process are made easier through Ingenium, the public sector data community containing every UK public sector leader, organised by job function and sector. Click here to learn more about how you can begin conversations to share your organisation's values and showcase your success with the public sector.
As the major political parties campaign for the UK General Election on 12 December, climate change, sustainability and energy efficiency are high on the agenda for all parties, with several making commitments as to the year by which the UK should be carbon neutral. To find out more about the parties' election manifesto pledges, and what they mean for business with the public sector, download the latest edition of our new report, 'The Public Sector Market in 2020 and Beyond: Opportunities for Smart Suppliers.'
Further reports on other key themes and trends discussed at Procurex Scotland 2019 and the Scottish Government 15th National Procurement Conference will be coming soon on the BiP Solutions site.