BiP is delighted to continue our awards season, with celebrations at our second Gala evening hosting the GO Awards Wales.
Finally returning as an in-person event, following four years of disruption, our Welsh procurement teams certainly made the most of the event.
The GO Awards showcase the innovation and ingenuity that ensures public spend creates lasting social and economic benefit; and mark the extensive collaborations and partnerships that exist across supply chains. This is the 20th year of the GO Awards programme, which – apart from a national event covering the entire UK – includes Awards for Scotland, Wales and Northern Ireland.
Celebrating public procurement in Wales at Mercure Cardiff Holland House Hotel & Spa on 9th November, the awards evening highlighted the amazing work that often goes under the radar.
Despite uncertainty and turmoil in the political and economic arena, public procurement simply continues to get on with the job: getting vital stuff done and making a genuine, real-world difference to people's lives. No drama, no rhetoric, no nonsense: just purpose and delivery.
And the GO Awards Wales was here to do just that, celebrating the people and teams that make procurement happen.
The Awards were judged by leading procurement figures from across Wales and the UK. The panel included: Mark Roscrow MBE Programme Director, NHS Wales Shared Services, Professor Jane Lynch Reader in Procurement and Supply Chain, Cardiff Business School, Liz Lucas MSc, FCIPS Chartered Head of Customer and Digital Services, Caerphilly County Borough Council, Scott Parfitt BA (Hons) MSc FHEA MCIPS Senior Lecturer Procurement Lead, University of South Wales, Grahame Steed Content, Research and Communications Director, BiP Solutions and Eddie Regan Principal Consultant, PASS Procurement​.
The big winner on the night was NHS Wales Shared Services and Partnership which took home the evening's star category 'The GO Excellence Award' as well as succeeding in several other categories, while Mark Roscrow MBE was recognised by GO Awards with a hugely deserved 'Outstanding Achievement Award'.
All outright category winners now gain automatic finalist status for the UK National Public Procurement Awards, where they will compete against Scotland, Northern Ireland & England, with the UK awards ceremony taking place next year in Birmingham.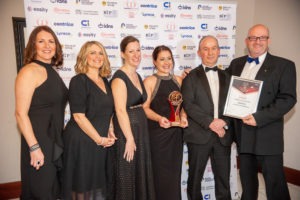 "Congratulations to all our winners and highly commended entries for their inspiring contributions, and to all our finalists who provided us with such strong competition for these awards. We hope everyone attending had a great evening!"
A big thank you must go to attendees who supported our charity raffle for The Trussell Trust, raising over £1,300.00 in support of their hugely important nationwide network of food banks.
Thanks must also go to our sponsors, Lyreco UK and Ireland, Centrica Business Solutions, IDNS Ltd, Jewson Partnership Solutions, Personal Group, Essity, Mercateo (part of Unite) and Llywodraeth Cymru / Welsh Government, without all of whom the GO Awards Wales would not have been possible.
We look forward now to the UK National GO Awards, the winners of which will be celebrated at our final ceremony in June 2023.
GO Awards Wales 2022/23 winners:
Contract and Supplier Management Award (sponsored by Jewson) ‒ NHS Wales Shared Services Partnership
Collaborative Procurement Initiative Award (sponsored by Mercateo) ‒ Welsh Government – Musical Instruments Dynamic Purchasing Agreement
Social Value Award (sponsored by Essity) ‒ NHS Wales Shared Services Partnership ‒ Displacing single-use medical textiles with more effective zero-carbon zero-waste targeted circular solutions
Procurement Delivery Award (sponsored by Personal Group) – Joint winners: NHS Wales Shared Services Partnership – Cardiff and Vale Frontline Procurement
 Velindre University NHS Trust & NHS Wales Shared Services Partnership – Integrated Radiotherapy Solution for SE Wales
Individual of the Year Award (sponsored by Welsh Government) ‒ Jonathan Irvine – Director, Procurement Services, NHS Wales Shared Services Partnership
Procurement Team of the Year (sponsored by IDNS) ‒ Cardiff and Vale Frontline Procurement Team (part of NHS Wales Shared Services Partnership)
Outstanding Achievement Award (sponsored by Centrica) ‒ Mark Roscrow MBE
GO Excellence Award – (sponsored by Lyreco) – NHS Wales Shared Services Partnership ‒ Displacing single-use medical textiles with more effective zero-carbon, zero-waste targeted circular solutions
Highly Commended:
Collaborative Procurement Initiative Award ‒ Digital Health and Care Wales
Individual of the Year Award ‒  Helen Rees – Head of Procurement and Contracting, Mid and West Wales Fire and Rescue Service