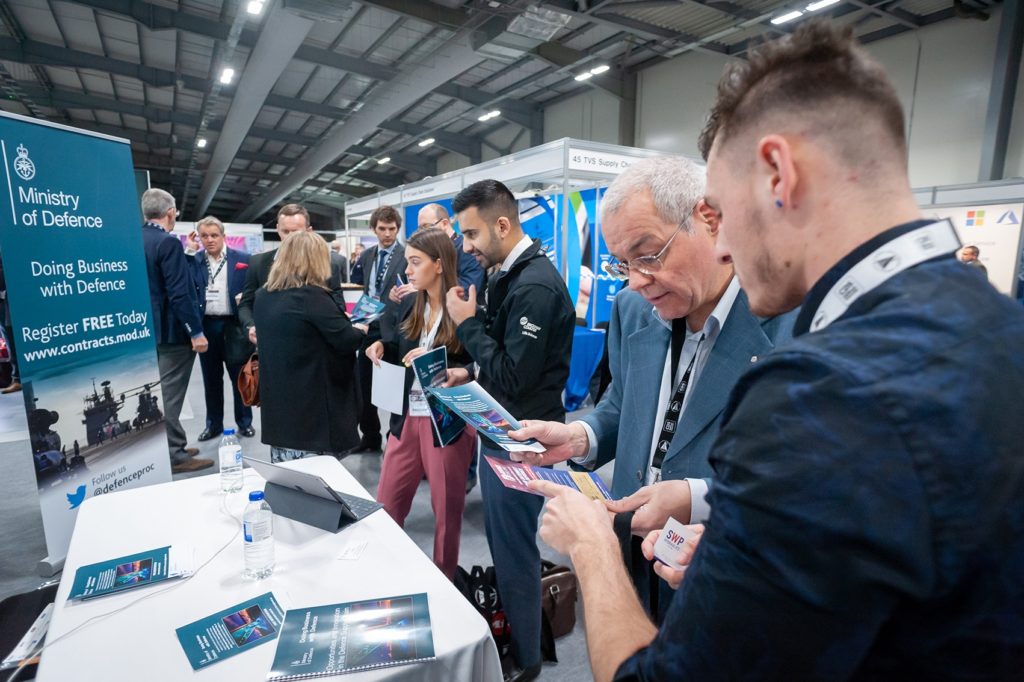 On Thursday 28 March the UK's leading defence procurement and supply chain event, DPRTE, which is supported by the Ministry of Defence, took place at Farnborough International Exhibition and Conference Centre.
The 2019 event reflected the diversity and profile of the defence supply chain and the UK's position as a leader within this sector.
The event has received excellent feedback from delegates, presenters and exhibitors alike, and we are pleased to announce that DPRTE will be back in April 2020.
Learn more about the day below!
Driving defence innovation forward
Simon Burges, Chief Executive Officer at BiP Solutions, was delighted with the attendance at this year's event as DPRTE welcomed over 1500 key decision makers from across the defence procurement and supply chain marketplace. Post-event, Mr Burges said:
"DPRTE plays a vital role in supporting collaboration and innovation across a hugely diverse set of requirements, within areas such as technology, equipment, support and infrastructure."
The event's Keynote Arena welcomed an impressive line-up, with speakers from several defence organisations:
Jim Carter – Commercial Director, Supply Chain, MOD
Dr Lucy Mason – Head of the Defence and Security Accelerator (DASA)
Jacqui Rock – Commercial Director, Defence Infrastructure Organisation (DIO)
Tracy Buckingham – Head of Operations and Security Exports, DIT DSO
After a packed-out morning in the Keynote Arena, industry thought leaders were also joined by Jason Fox from Channel 4's SAS: Who Dares Wins.
Jason gave an inspiring talk about his own military experience, and before arriving at his Keynote session he visited the Defence Engagement Hub to take part in BiP's VR Challenge… unluckily for him, he was not our tournament winner!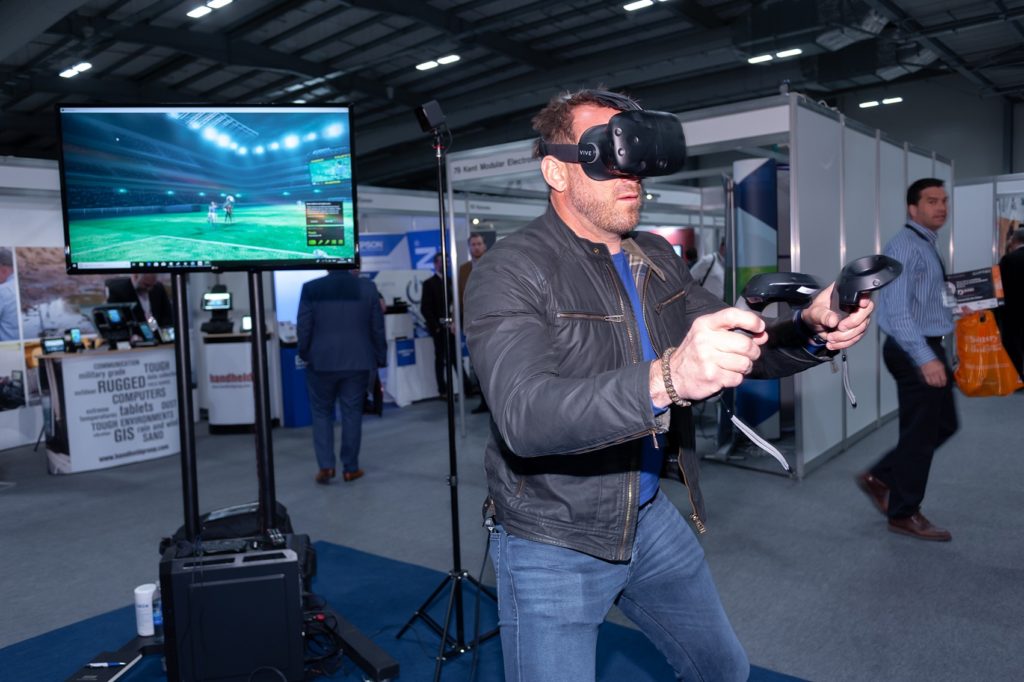 Supporting the defence supply chain
The defence supply chain is a vital and growing part of the UK economy. It directly and indirectly supports thousands of skilled jobs across the entire country, creating income that in turn underpins the delivery of a wide range of public services.
Mr Carter spoke about 'Improving MOD's Industrial Engagement' during his session in the Keynote Arena, and give an overview of the MOD's journey towards Strategic Partnerships. He also discussed how the organisation wants to make it easier for suppliers to do business with defence.
During his Keynote session he said:
"Harnessing the innovation of SMEs is absolutely critical. To have the best military capability we need that diversity of input. Innovation is really high on our customer's agenda and we need to find a way as a commercial organisation to engage with a wide range of SMEs and bring them into our supply chain."
Over the next decade the MOD is committed to spending over £178bn on equipment and support.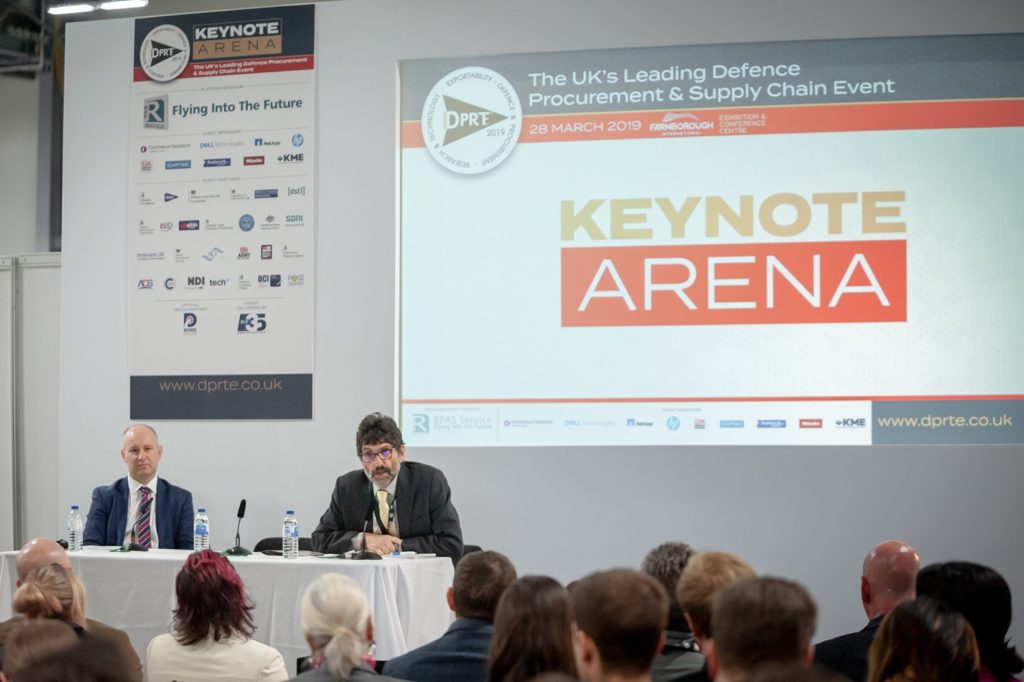 Networking and development
This year DPRTE hosted five unique Knowledge Transfer Zones, each designed to increase the knowledge and skills of both buyers and suppliers at the event. Spread across the conference hall were the following zones:
Technology & Innovation
Supply Chain & Partnering
Buyer Excellence in Procurement
Export & Business Growth
Doing Business with the US DoD
Speaking in the Supply Chain & Partnering Zone about the Crown Commercial Service's collaboration with the Defence Infrastructure Organisation was David Wharton, Head of Account Management at CCS.
David said that his session gave him the opportunity to gain feedback from clients and gave them the opportunity to put their questions to him directly. Speaking to the DPRTE content team, he said:
"It is often very difficult to have all of your suppliers in the one place but here at DPRTE you get to hear of innovations that you wouldn't normally hear of at a normal market engagement event.

"It is also really useful that the defence supply and buying communities have pulled together to help each other understand more about requirements on both sides of the fence." 
Early engagement opportunities
DPRTE aims to bring the defence buyer and supplier communities together, and this year it was achieved on an international level!
Hundreds of suppliers had the opportunity to meet with buyers from each of the UK's frontline commands as well as members of the US and Australian defence departments – making the event one of the best yet for defence networking opportunities.
DPRTE does not only benefit suppliers that are looking for opportunities in the defence sector, but is also vital to organisations like the UK Defence and Security Accelerator (DASA) that are always looking for innovative ideas and suppliers to work with.
Dr Lucy Mason, Head of DASA, spoke to the DPRTE content team after delivering her keynote session about her experience at the event. She noted:
"We are really keen to be here at DPRTE; these kinds of event are crucial to allow government and industry to cooperate and work together, get together and network – which is always really valuable!"
Dr Mason has plans for continued growth in DASA and says that the organisation is looking for businesses in the defence marketplace that need support with innovation. She encourages these businesses to reach out to DASA.
Join us at DPRTE 2020
The main focus of the DPRTE event is to showcase research and technological developments that can be used to benefit society.
Grahame Steed, Director of Business Intelligence & e-Sourcing at BiP Solutions, is excited about the future of DPRTE. He said:
"At a time of increased and emerging threats to the UK, the defence supply chain helps to protect our interests at home and abroad – in addition to driving valuable research and innovation in areas such as cyber security, biometrics and life sciences."
If you would like to join us at DPRTE 2020, the event will take place on 1 April at Farnborough International Exhibition and Conference Centre.
Your business can also invest in the development of new and existing business opportunities by participating in this important event. Contact us today to discuss booking your 2020 exhibition or sponsorship package – call 0845 270 7066 or email exhibitions@dprte.co.uk.
Thank you to our DPRTE 2019 sponsors: RPAS Service, Commerce Decisions, Dell Technologies, NetApp, Farnborough International Airshow, CDS Defence Support, CAPTEC, Miele, KME and Scotwork.