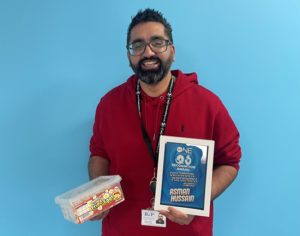 Our third and final winner of the Q3 BiP Recognition Awards was, Asman Hussain, who won the Outstanding Performance Award.
Let's hear from Asman's line manager Simon Inman:
"Asman joined BiP in December and within his first week we experienced a network outage, during the incident, Asman was a beacon of calm and light. Still fresh to the business, Asman showed outstanding and unflappable support from the start and was able to hit the ground running and support to get us back online."
Congratulations Azi!