BIP Solutions launches Aim for Growth 2021 to help businesses win more public sector opportunities
BiP Solutions is pleased to announce the launch of its new Aim for Growth 2021 initiative, which will challenge businesses to focus on the many growth opportunities that exist within the lucrative public sector market.
Despite Lockdown 3.0, BiP Solutions' research indicates that 2021 is shaping up to be a significantly better year than 2020. Buyers and suppliers have learned from their experiences in the lead-up to Brexit and last year's lockdown period. They now understand that preparing for the unpredictable is essential for success. With Government spend increasing and a host of initiatives underway to make procurement more transparent and accessible, this is a good time to engage the market.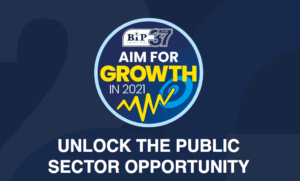 As part of the Aim for Growth 2021 initiative, BiP Solutions are, for a limited time only, offering a complimentary report containing detailed insights about recent government spend activity and trends to help identify potential areas of opportunity for your business. The company is also challenging suppliers to put its database of open contract opportunities to the test by identifying winnable opportunities based on a simple company profile.
Grahame Steed, Content and Research Director of BiP Solutions, said: "Our research indicates that 2021 will be a strong year for the public sector supply chain, as investment into vital services helps the UK recover from the double impact of COVID-19 and Brexit. Aim for Growth 2021 will help existing and new suppliers grow their share of this huge and dynamic marketplace and we look forward to supporting them with the intelligence they need to be successful."
 Interested parties should register here to get started and keep an eye out for exclusive insights into public sector growth opportunities.
About BiP Solutions
BiP Solutions is a leading provider of business intelligence services for organisations of all sizes. With more than 37 years' experience working with both buyers and suppliers, BiP helps businesses to identify and win contracts across the public and private sectors.
For more information please visit www.bipsolutions.com.