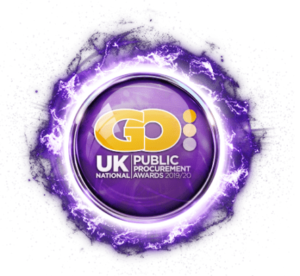 There's still time to submit your entry for the UK National GO Awards before the deadline of Friday 1st March.
The GO Awards celebrate the best in public procurement from throughout the UK, recognising contributions from the public, private and third sectors. Entering the awards gives you the opportunity to raise your profile, share best practice with your peers, and have your organisation's procurement success story recognised. Learn more and enter the awards here.
As well as the prestige of a nomination, there's the networking opportunities afforded by the GO Awards presentation ceremony. Whether you are a supplier to or a buyer for the public sector, the GO Awards are a fantastic opportunity to celebrate procurement excellence, gain best practice insight and meet fellow procurement professionals at the networking opportunity of the year. Taking place on the evening of Procurex National, 30th April, the exclusive, black-tie UK National GO Awards ceremony will be held this year at the Hilton Metropole Hotel, Birmingham.
Grahame Steed, Business Intelligence and e Sourcing Director at BiP Solutions, said of the awards:
 It's hard to believe that the submissions deadline for the National UK GO Awards is so near – 1st March, in case you don't have it in your diary. With so much change happening across the public sector, the recognition of consistent excellence and best practice is more important than ever before. We're looking forward to once again recognising and celebrating progress across the entire public sector supply chain, culminating with the Awards ceremony on 30th April. I urge all organisations across the public sector – and those working with them – to take the time to enter these Awards.
To view all the categories of awards, learn more and submit your entry today, click here.
To find out more about BiP Solutions, visit www.bipsolutions.com.