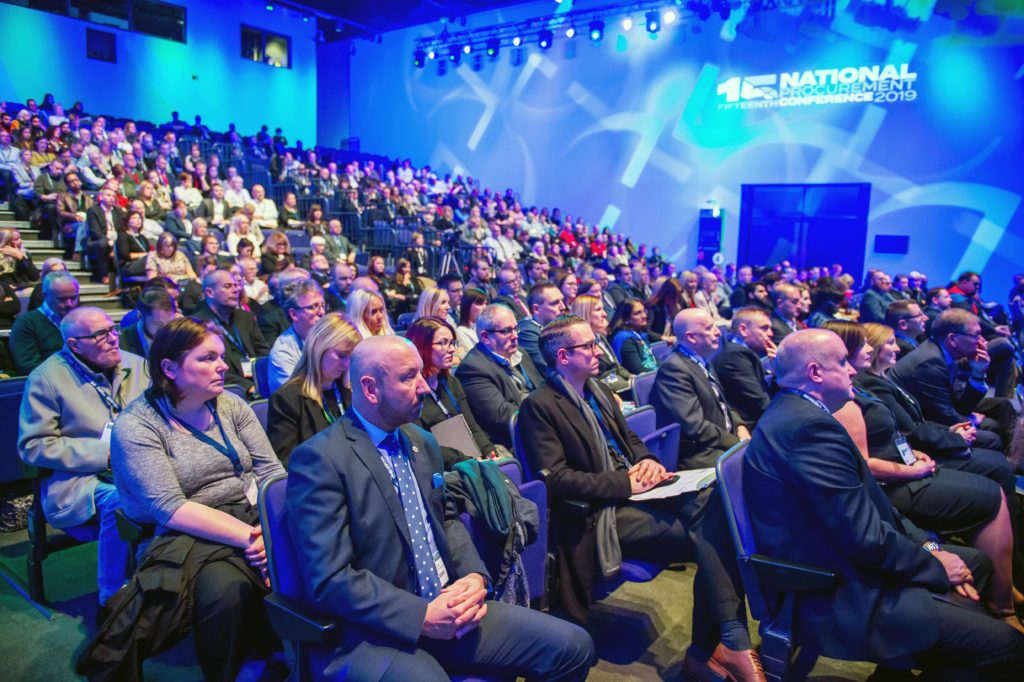 Procurex Scotland 2019 and the 15th Scottish Government National Procurement Conference were held this year on 29 October at the SEC, Glasgow. You can access our event report on procurement and sustainability here. In the second of our reports looking back at some of the highlights and key themes of the day, six weeks on, we look at the links between procurement and social benefit. Although considering social value as part of any procurement exercise has been mandatory for buying organisations since 2012, buyers and suppliers are increasingly aware that areas such as environmental impact, community activities and contribution to the local economy are increasingly important to service users, employees and businesses. As the talks at Procurex Scotland and the Scottish Government National Procurement Conference showed, considering social impact is also good for business too, with community sustainability going hand in hand with economic growth.
The local economy agenda
A keynote address from Kate Forbes MSP, Minister for Public Finance and Digital Economy, began the Scottish Government National Procurement Conference. Ms Forbes' talk was a survey of many of the ways in which procurement can effect change, on a local and global level. Insisting that "there is great collective power in this room," Ms Forbes described the need to "build resilience into our own organisations, but also organisations we have dealings with."
Emphasising the role of building sustainable economies at the local level, Ms Forbes stated that "it's easy to look at the national picture without realising how powerful the local picture is." She pointed out that issues of corporate responsibility such as paying a real living wage or addressing gender inequality in the workplace are not simply beneficial for their own sake, but stimulate local economies – in turn feeding back into business. Reminding the Conference audience that "your spend creates £10bn of economic activity," Ms Forbes underlined the extent to which procurement has a major role to play in stimulating local economies.
An important element of contributing to local economies, as was addressed by several of the day's speakers, is the role of SMEs. The Supply2Gov tender alerts service allows SMEs to be alerted to upcoming opportunities, through access to the UK and Republic of Ireland's largest database of public sector contracts. With a particular focus on organisations newer to public sector tendering, Supply2Gov allows businesses to access alerts from the whole of the UK, or simply a local area of their choosing, free of charge. For buyers looking to work more with SMEs, CompeteFor exists to deliver sustainable and measurable community benefits through 'opening up' major supply chains from capital expenditure projects to SMEs and local businesses. Aiming for transparency of opportunities through the entire supply chain, CompeteFor's free service enables businesses to compete for contract opportunities linked to major buying organisations in both the public and private sector – increasing the diversity of organisations participating in the supply chain, and ensuring ethical transparency throughout.
Local communities, national benefits
Following Ms Forbes was Scott Bell, Deputy Director of Procurement Development and Construction with the Scottish Government, whose talk focused on specific instances of procurement success that have had wider community benefits. These included the case of a school in Inverclyde which, thanks to a national framework, was able to provide iPads for some of its poorest pupils to use in class, along with the necessary training for teachers; and the 'baby box' delivered to every new parent in Scotland, a GO Award-winning project delivered by APS Group. However, as Mr Bell pointed out, the benefits of procurement "are not just about the contract." By way of example, he pointed to the case of a family in South Uist who were able to have a new boiler fitted in their home – after having to use an oil burner for heat – thanks to the Warmworks scheme. Aside from the benefit to the family, Mr Bell pointed to the fact that Warmworks is a collaboration between a business, a third sector organisation and a charity. The procurement process itself therefore and the collaboration are "good for business, good for employees and good for communities." Introducing the National Performance Framework, Mr Bell explained that it "describes the Scotland we aspire to." Despite – or because of – showing the benefits that can be achieved through the procurement process as well as the end result, Mr Bell impressed on delegates that "purpose beats process."
A seemingly very different topic was addressed in the talk by Paul McNeill, Head of Community Development at Scottish Football. Mr McNeill said that "the impact of football is far bigger than 22 men running about a field", claiming that "every household in Scotland has some kind of engagement with football" – from supporting teams as fans to working for a business that sponsors or is involved in providing building materials for stadiums. Mr McNeill said that the Scottish FA recognised a need to "take responsibility for being the country's biggest sport," and to communicate better the social and business benefits of football to Scotland. Looking at the "social return on investment," Mr McNeill talked about the economic, social and health, as well as financial, benefits of grassroots football, and the importance of making sure these benefits are communicated widely.
Beside the financial importance of football for Scotland and Scottish communities, which Mr McNeill made very clear, the link between football and procurement more widely may not seem immediately obvious. However, there was an interesting discussion between Mr Bell and Mr McNeill after the latter's talk, which made clear how the two fields can learn from each other. Mr McNeill's talk made clear, said Mr Bell, the importance of leadership space, and how strategic thinking from leaders in key positions can ensure that a wider agenda, and the benefits that it will have, are communicated clearly to both end-users and stakeholders. Moreover, said Mr Bell, "the place agenda features very highly" for procurement in Scotland, with an increased focus on benefiting local economies and communities, which – as the talks at the National Procurement Conference showed – have a positive effect on sustaining economic growth. The Scottish FA provides "a great example," Mr Bell noted, "of taking something national and applying it locally" – making apparent how a large-scale national industry can benefit local communities, as well as showing how small-scale local economic growth can scale up.
Sharing best practice, celebrating success
The strength of Scottish procurement in tackling local issues was also recognised in a keynote talk by Malcolm Harrison, CEO of the Chartered Institute of Procurement and Supply (CIPS), and Nikki Archer, Deputy Director, Head of Procurement and Commercial Policy & Strategy and Head of Procurement Profession with the Scottish Government. Kicking off the GO Excellence Live Stage at Procurex Scotland, Mr Harrison and Ms Archer, interviewed by Scotland Tonight presenter Rona Dougall, described some of the major trends and challenges currently facing procurement in Scotland.
Mr Harrison suggested that "there are areas where Scotland is leading best practice internationally," particularly noting social value and the impact on local communities. Ms Archer agreed that "the holistic approach [Scotland] takes is unique." Ms Archer said that assuring social value and a positive wider impact through procurement is "not a tick-box exercise," urging delegates to look at priorities in individual cases. For example, where a supply chain includes a high proportion of SMEs, Ms Archer suggested that focusing on the local economy impact would be particularly important. This is not always a simple fix, however, and Ms Archer added that "buyers deserve recognition for managing these challenges."
The GO Awards series of events aims to recognise and celebrate excellence in all aspects of procurement from across the UK, from the public, private and third sectors. As Mr Harrison and Ms Archer kicked off a series of interviews with nominees for this year's GO Awards Scotland, Ms Archer said that while the procurement environment in Scotland is unique, it is important for Scottish procurement leaders to share best practice with colleagues in Wales and Northern Ireland too. The GO Awards Northern Ireland and GO Awards Wales 2020 events will take place on 10 March and 18 March, respectively, and entries are now open. As well as celebrating organisations' success and innovation in procurement, the Awards are a great opportunity for teams to share best practice with colleagues and potential partners, including in areas such as Social Value, Environmental Impact and Supplier Relationship Management. See the full list of categories here. The nominations will be announced at the end of January, so enter your organisation or team soon to make sure their success is recognised.