This month our spotlight focusses on our Salford office, and a stalwart of the sales team there, Amy Bourne.
Amy began her BiP journey in 2013 starting as an Account Development Manager with what was Ingenium.
It was back in 2016 that the BiP family expanded with the acquisition of the public sector marketing specialist to help boost the BiP brand.
Now, six years on and an evolution of the department has seen our Cadence brand embed itself into BiP, with its direct engagement of the public sector reaping rewards. As SME spend becomes ever more crucial to government procurement, the department helps facilitate early engagement of buyers and suppliers, bringing new innovations to the public sector market.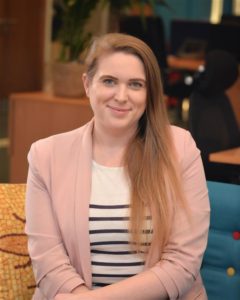 How would you sum up your job at BiP, Amy?
New business management is the main aspect of my role, supporting clients with external marketing activity, I also help train any new staff that join the team.
When did your BiP journey begin?  
Through the acquisition of Ingenium.
In what capacity did you start? Why did you join BiP? Why did you stay?
I started as an Account Development Manager, worked my way through to Sales Manager, then back to a full time portfolio management role with an added training function.
I joined Ingenium originally because I saw how much Sam Gilding enjoyed the role and wanted a new challenge outside of the world of customer service. I had dabbled in sales and marketing a little in previous roles at BHS and Direct line (B2C), following the acquisition I stayed in the role as not too much changed at first – same people, same product. I'm still here now because I like the client engagement and both the internal and external relationships I've built up over the years.
It's a completely different organisation to the one I joined, but I like to think that I've adapted to the change and continue to apply my knowledge and experience to the business.
When are you at your most productive?
Definitely in the morning (I should say all day, right?)
What are the major differences you've seen between Ingenium as was and becoming part of BiP?
With a few exceptions, a completely different team in the Manchester Office, it was a very informal office. BiP definitely has more ambition to grow the business unit and there are more progression opportunities now, which is a positive.
What are the biggest changes you've seen in sales and marketing throughout the years?
There's been a big shift in process. Everything has become far more processed driven for onboarding clients and raising PO's and measuring performance metrics.
What's your favourite thing to do outside of work?
Before becoming a mum, I would have answered with socialising, spending time with friends, day drinking, having a good laugh. Now its spending time with my daughter, watching her develop into a little character and teaching her new things. Of course, the other stuff would be nice but I'm still finding my feet post lockdown.
Quick fire:
Joggers or Jeans – Jeans

Ties or T-shirts – T-shirts

Coffee or tea – Coffee

Lager or ale – Lager

Book or film – film

Football or rugby – Football

Cat or dog – dog

Hot or cold – Hot

Salty or sweet – sweet

Tattooed or not – Tattooed

Night out or night in – Night in

​​​​​​​
Join us next month for our spotlight on Software Developer – Alvaro Sanchez.