Against the backdrop of uncertainty caused by the UK's impending exit from the European Union, Finance Secretary Derek Mackay MSP has delivered the 2018 Scottish Budget (December 12th).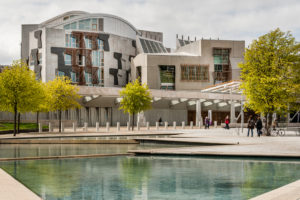 Describing it as a "fair and progressive budget" Derek Mackay presented a business-friendly package, while placing the protection of public services at the heart of this Budget Statement.
Below you can find a breakdown of key Scottish Budget 2018 figures in addition to which public sector opportunities await your industry.
SME
A £50 million 'Town Centre Fund' will provide much needed support for Scotland's high streets. There will also be a cap put on business rates below inflation, providing a tax cut for small businesses, which Mackay described as "the most generous system anywhere in the UK". The partnership between the private sector and the Scottish Government has played an important role in recent years, which was championed by the Cabinet Minister for Business, Fair Work and Skills Jamie Hepburn MSP at Procurex Scotland, in which he encouraged businesses to consider the welfare of local communities and the environment, calling on suppliers to "not be risk averse".
Housing
An investment of £825 million -as part of an overall fund of £3 billion- will help deliver 50,000 affordable homes over the course of this parliament, which has been the cornerstone of Housing Minister Kevin Stewart's construction agenda.
Education
Describing education as the Scottish Government's "defining mission", the Finance Secretary set out bold new proposals for Scottish schools. £180m will be used to close the attainment gap, including £120m, which will be directed towards headteacher budgets through 'Pupil Equity Funding'. £600m will also be given to colleges and £1 billion has been secured for Scotland's world-class universities. £214m has been set aside for apprenticeships and skills; providing a gateway in to employment for many of Scotland's young people.
Healthcare
An increase of £730m will be provided to NHS Scotland, which is the equivalent to hiring 19,000 nurses, as Derek Mackay confirmed "health is a top priority for the government", which accounts for almost half of the Scottish Government's overall spending.
Local Government
The Scottish Government will provide "a real terms increase in the total local government settlement of over £210m" Mackay said, taking the local government budget to £11.1 billion. This will be welcome news for Fife Council executive director Keith Winter, who was a keynote speaker at Procurex Scotland, where he championed "social justice" as he encouraged councillors to adopt a global strategy moving forward.