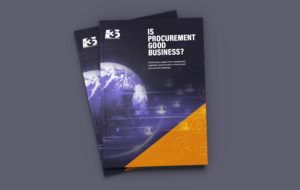 BiP Solutions is pleased to launch our latest market report, 'Is Procurement Good Business? Social value, supply chain management, legislation and innovation in the current procurement landscape.'
This report examines three of the most pressing themes in contemporary procurement: social value, ethical supply chains, and the relationship between legislation and innovation. Aside from specific political events, these three themes are perhaps the major issues that have the potential to reshape how procurement is practised across the UK in the near future.
Following Procurex National 2019, the flagship event in the UK public procurement calendar, hosted by BiP Solutions, this report includes expert analysis and comment from procurement leaders from the day. The clear message from both attendees and the expert speakers at Procurex National is that legislation, like social value and ensuring an ethical supply chain, can prove to be a source of opportunity to procurement. Rather than stopping competition or innovation, or enforcing arbitrary boundaries, all three key themes can in fact make for better business.
Social value is not only a legal requirement, but is also increasingly weighed into procurement requirements in many different sectors. We discuss how organisations can shape their own 'social value' position.
Supply chain ethics are important in an ever-more transparent age. Learn how buyers can make sure ethical business is factored into every stage of the supply chain.
Legislation and innovation can seem like they are at odds in procurement, but we look at how procurement legislation can work to spur innovation and improve efficiency.
The report includes comment from figures including Malcolm Harrison, CEO of the Chartered Institute of Procurement & Supply; Simon Tse, CEO of the Crown Commercial Service; and Mark Roberts, Continuous Commercial Improvement Director at the Cabinet Office. The report also describes key ways in which BiP Solutions can help you get ahead in procurement by supporting you to stand out in terms of social value, ensuring a robust and ethical supply chain, and working in the best way within the legislation.
Download your full copy of the report here to find out how to maximise your opportunities by keeping abreast of the latest burning issues in procurement.