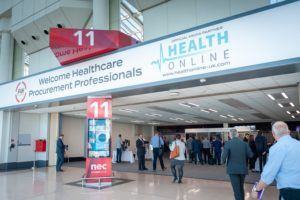 The UK's premier healthcare procurement event, P4H England, returned to the NEC, Birmingham on 4 July 2019. The event welcomed over 1500 delegates from the NHS, the wider healthcare sector and the private sector supply chain, with a packed schedule including keynote talks, training and knowledge exchange sessions, and many opportunities for buyers and suppliers to meet and discuss their needs.
Many of the day's sessions had standing room only, demonstrating both the quality of the talks on offer and the enthusiasm of the P4H audience.
You can see some of the day's highlights here, and read more below:
Keynote Arena
The Keynote Arena witnessed a plethora of talks from procurement leaders from throughout the healthcare sector, as well as a motivational lecture from world-famous explorer Sir Ranulph Fiennes.
Chair Glen Hodgson kicked off the day by suggesting that "our job today is to avoid the noise and think strategically – focusing on the great work done by colleagues to make the NHS safe." Stephen Foulser, Customer Engagement Director at NHS Supply Chain, delivered the first talk of the day, reflecting on a year of the new NHS Supply Chain Operating Model. Next up, Michael Pace, Managing Director of Corporate Services at the NHS London Procurement Partnership, stressed the importance of collaborative work to efficient procurement. Mr Pace said that despite the huge changes that have come to bear on NHS procurement over the last 12 months, and what he understands as areas where improvements still need to be made, there was much to be positive about.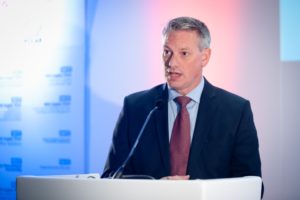 "I'm more excited by the opportunities in front of me than I ever have been as an NHS procurement professional before." – Michael Pace, Managing Director, Corporate Services, NHS London Procurement Partnership
Sir Ranulph Fiennes' lecture proved to be the day's main draw for many attendees, with delegates queueing several rows back from the Keynote Arena to hear about the explorer's experiences over more than 50 years across Oman, the River Nile, Vancouver, Antarctica and the Arctic Circle. Sir Ranulph emphasised the importance of teamwork, framing all his expeditions as the achievements of a dedicated team. Aside from the focus on collaboration, the relevance of Sir Ranulph's talk to a healthcare audience was made obvious through his sharing of several graphic photos detailing the after-effects of severe frostbite!
The afternoon at the Keynote Arena was equally busy, with talks including Pia Larsen, Director of Procurement and Supply Chain at University College London NHS Foundation Trust, delivering a detailed case study of what transforming procurement at a particular trust looks like. The theme of asking what 'collaboration' looks like, and how it can change NHS procurement, continued with two talks about the experience in different parts of Greater Manchester, from Neil Hind, Procurement Lead at the Greater Manchester Health and Social Care Partnership, and Joe Lever, Group Procurement Director at the Northern Care Alliance NHS Group. The final keynote talk of the day saw Tom Wynne, Head of Procurement for London at NHS Improvement, talking about the forthcoming Procurement Target Operating Model, allowing delegates to see some of the ways in which NHS procurement is set to be reshaped in the coming months and years.
Market Support and Engagement Zone
The Market Support and Engagement Zone at P4H England 2019 allowed suppliers to understand how they could best engage earlier with buyers across the NHS and beyond. Teams representing Tracker, Supply2Gov, Cyber Essentials and Market Engagement heard first-hand about some of the challenges faced by the private sector and were able to offer expert advice on how to leverage best-in-class tools to improve tender win rates and identify strategic business opportunities. Delegates were also able to visit the on-stand juice blend bar, which proved unsurprisingly popular on a very warm day!
"We'd like to say a massive thank-you to Tru Foo, our juice suppliers, for keeping us and the delegates refreshed throughout the day. We had some really insightful conversations with suppliers looking to increase their visibility in the public sector market, and we hope that each of them left the stand with actionable information that helps them grow their business in this market." – Susan Staley, Head of Digital Marketing, BiP Solutions
BiP Solutions customers were also offered exclusive access to the VIP lounge, providing a quiet space throughout the day to catch up with colleagues and emails, enjoy refreshments and attend several VIP-only talks.
Health Online
As the official media partner of P4H, Health Online was proud to be represented at the event. Interest in Health Online's dedicated online healthcare community proved high, with a talk from Health Online Sales Manager Soafyaan Zia seeing delegates literally queueing out of the door to attend! You can learn more via Health Online's own P4H review.
What's next?
Scotland's and Wales' procurement communities will come together later this year at Procurex Scotland on 29 October in Glasgow and Procurex Wales on 7 November in Cardiff. Register today or learn more about sponsorship opportunities here.
There's also still time to enter your procurement team or project for the prestigious GO Awards, with presentation ceremonies taking place on the evenings of Procurex Scotland and Procurex Wales. Share your procurement success stories here!