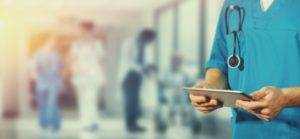 Earlier this month, the NHS published its Long Term Plan. The Plan details how the £20.5 billion budget settlement for the NHS, confirmed in the summer of last year, will be spent over the next five years.
For patients, the Plan focuses on delivering 'the best start in life' for everyone, community health, and allowing people to age well. From the perspective of the NHS itself, the Plan will focus on driving efficiency, both in terms of organisation and affording individual workers easier and more effective working practices.
A major focus of the Plan concerns digital transformation. This will include such innovations as the NHS App, allowing for a single way for patients to identify themselves across a range of local and national services.
Associated apps and digital solutions will no doubt be embraced wholeheartedly by a range of NHS institutions, as a recent iGov Survey found that 72% of respondents from the NHS would like to deliver patient health apps as part of their Wi-Fi solution, while more than two-thirds stated that patient access to online appointment bookings will be beneficial.
At BiP Solutions, we recognise both the challenges and opportunities presented by digital transformation facing healthcare buyers and suppliers today.
In fact, our most recent report considered the digital trends and innovative approaches playing a significant role in today's NHS through boosting efficiencies and, crucially, saving lives. You can access a complimentary copy here.
It's no secret that the NHS is a hugely complex organisation, with hundreds of separate but connected organisations, and navigating the ways they link, share information and work together can sometimes be difficult for NHS staff, let alone those seeking to work with NHS trusts. The digital transformation element of the Long Term Plan promises to ease the burden of the NHS' complexity for patients and staff.
If you're looking to cut through the difficulties of understanding how NHS organisations are related and talk to the right person to do business with, BiP Solutions' Ingenium community can help. Our data community holds contact details for all senior decision-makers throughout the NHS, which we combine with a deep understanding of the NHS' structure to deliver relevant and engaging digital marketing campaigns.
The Long Term Plan will reshape many NHS working practices, the ways patients interact with the NHS, and the way that business is done too. For businesses, it'll therefore be important to keep up-to-date with the latest developments, as changes are set to happen throughout the NHS supply chain. An easy way for businesses to ensure they're staying abreast of the latest changes is through Tracker's business intelligence modules which offer an easy one-stop, complete source of information on public sector procurement.
Additionally, a major element of the Plan's overhaul of working methods will be further innovations in terms of technology and equipment needed. For example, the Plan's stated aims include new ways of managing and storing data, as well as novel methods of treating patients and providing care. With innovation a primary concern, it's important that businesses are able to join conversations with NHS buyers earlier, to ensure that they can gain a real understanding of the requirement – or even shape discussion about the solution needed.
In fact, Gareth Rhys Williams, Government Chief Commercial Officer and Non-Executive Director at the Crown Commercial Service (CCS), said at our recent Procurex Scotland event that "early engagement is absolutely crucial." He also noted that both buyers and suppliers should be encouraged to engage earlier to get the best out of a procurement exercise:
"If we don't engage with the market, we won't understand what the market can offer or what suppliers have developed for a different buyer elsewhere in the country. If we do not talk to suppliers then we miss out on opportunities and we will end up trying to procure something that they may not be able to deliver."
How we can help
As mentioned before, Ingenium can put businesses in touch with key NHS stakeholders ahead of the tender process, helping conversations happen earlier.
Additionally, Tracker aids early engagement, thanks to easy viewing of upcoming contract renewals and recurring projects through 'Market Leads', meaning businesses can discuss these needs ahead of tender publication. Meanwhile, Tracker's 'Spend Analysis' allows for an overview of what organisations are spending and with whom – helping businesses to shape future discussions by understanding how individual NHS trusts spend and work.
The transformation of the NHS via the Long Term Plan looks set to radically overhaul the way that the NHS, patients and businesses interact. We look forward to working digitally together with the NHS as the Plan unfolds.
Further reading
View the Long Term Plan here.
Access our latest Healthcare market report here.
To find out more about our solutions, please visit: www.bipsolutions.com