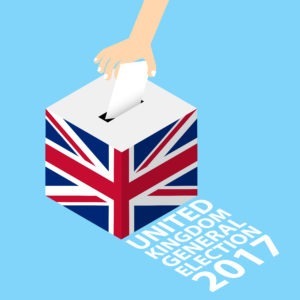 Prime Minister Theresa May called a snap election for 8 June to increase her majority and strengthen her hand in Europe, but she ended up without any majority at all.
The shock result of the 2017 General Election, which saw the Conservative Party returned as a minority administration, raises more questions than answers about where the country goes from here as Brexit negotiations loom.
Here are three key takeaways from the 2017 General Election:
What happens next?
The Conservatives won the most seats, but failed to win outright. To win outright, a party must secure 326 out of 650 seats in Parliament – the Conservatives ended up with 318, just short of an overall majority. However, May will still try to form a government by entering into an agreement with the Democratic Unionist Party whose 10 seats will bring the two parties' combined total to 328.
But how will this agreement work in practice? With policy disagreements on a number of issues from Brexit and border controls to scrapping the 'triple lock' rise in the state pension and means-testing winter fuel payments, it remains to be seen.
IndyRef 2 off the table?
The SNP lost 21 seats across Scotland, with high-profile casualties including Alex Salmond and Angus Robertson, putting plans for a second vote on Scottish independence in serious jeopardy.
After making sensational gains in 2015's General Election, when Nicola Sturgeon's party won 56 out of Scotland's 59 seats, the SNP saw its numbers fall to 35 MPs. As the SNP ceded ground, the Conservatives produced their best result in Scotland since 1983, returning 13 MPs.
While the SNP still has a clear majority of seats in Scotland, losing so much ground could undermine the Nats' push for a second independence vote in the immediate future.
Ramifications for Brexit
This election was supposed to deliver a national vote of confidence in Theresa May, which would give the PM a mandate to seek a 'hard Brexit' ahead of the forthcoming negotiations.
However, entering into an agreement with the DUP is likely to scupper those plans. As Polly Toynbee of the Guardian points out, the "DUP top priority will be soft border, saving Good Friday agreement and free movement across boundary. That absolutely rules out hard Brexit."
Previous statements from the DUP also point to this being the case. Arlene Foster, the DUP leader, has spoken against a hard Brexit in the past, saying: "No-one wants to see a hard Brexit, what we want to see is a workable plan to leave the European Union, and that's what the national vote was about."
Formal Brexit negotiations are scheduled to begin on 19 June. With May's mandate for a 'hard Brexit' seemingly now off the table, it remains to be seen how the UK will secure the best post-Brexit trade deals and policies amid such political uncertainty at home.