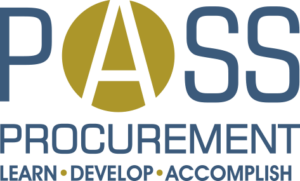 PASS (the Procurement Advice and Support Service) provides expert training, bid support and consultancy across the public and private sectors.
PASS procurement consultants present at over one hundred conferences and events each year as well as delivering in-house training and consultancy for both public and private sector clients.
Our team of knowledgeable consultants bring extensive experience of procurement and the public sector, offering training, support and advice across a wide range of procurement-related subjects. We offer a range of services to support buyers and suppliers at every stage of the tendering process, from drafting tender specifications to bid reviews. Whether you are seeking help to write specifications or complete tender documents, need to update your tendering strategy or want to understand what went wrong, we have people with the experience to help you.
To find out more about PASS consultancy and training services, simply fill in your details and we'll be in touch shortly.
We use cookies on our website to give you the most relevant experience by remembering your preferences and repeat visits. By clicking "Accept All", you consent to the use of ALL the cookies. However, you may visit "Cookie Settings" to provide a controlled consent.
Select a page to copy this section to:
Select where in the level you want it inserted:
The section was duplicated. Go to the page now
Something went wrong. Please try again.