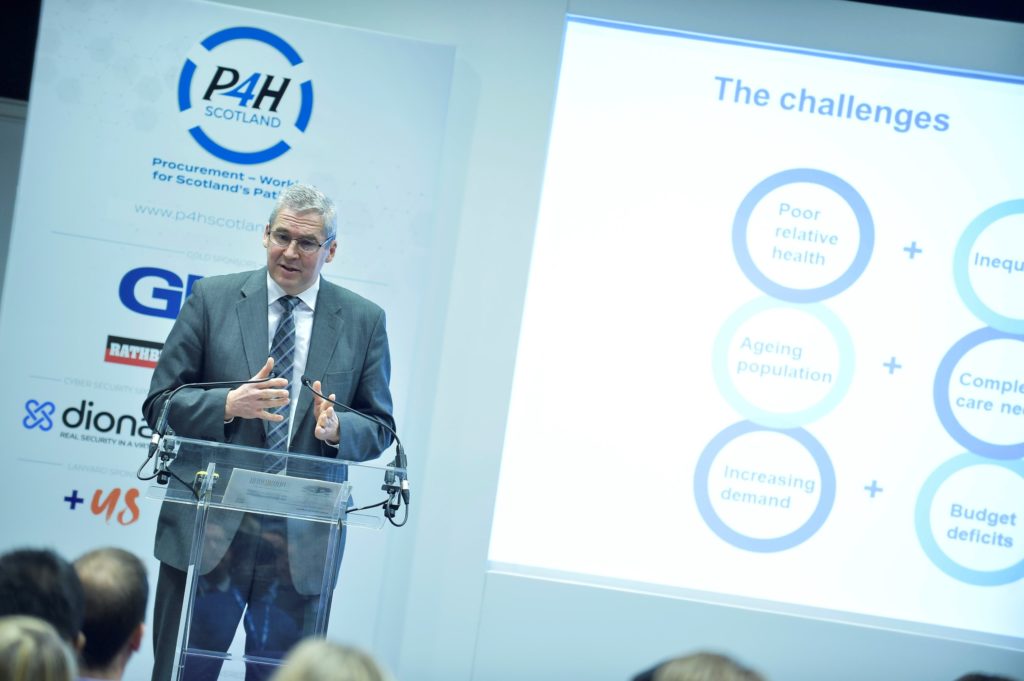 On Tuesday 12 March our premier healthcare procurement event, P4H Scotland, which is supported by NHS National Services Scotland, took place at Edinburgh International Conference Centre.
The second P4H Scotland was as well received as the first, with excellent feedback from delegates and presenters and exhibitors.
Marie-Claire Miller, Customer Engagement Commodity Manager, NHS National Services Scotland, spoke to BiP Solutions on the day and said that:
"It was a really great event, lots of enthusiasm in the room and lots of discussion. Let's see how many of the discussions we can turn into positive actions. See you at P4H Scotland 2020!"
Keynote Arena
P4H Scotland delegates packed into the Keynote Arena at the Edinburgh International Conference Centre to join in the debate. Thought leaders and industry experts took the stage and presenters on the day included:
Duncan Eaton – Executive Advisor to the All-Party Parliamentary Health Group
Colin Sinclair – Chief Executive Officer, NHS National Services Scotland
Jim Miller – Procurement Commissioning & Facilities Director, NHS Scotland
Professor Jacqui Reilly – Director of Nursing, NHS National Services Scotland
Jaime Hill & Jess Cronin – Customer Innovation Team, Johnson and Johnson
Nicole McGlennon – Representing the SDMA, Business Unit Director UKI – Wound Care and Infusion Devices, ConvaTec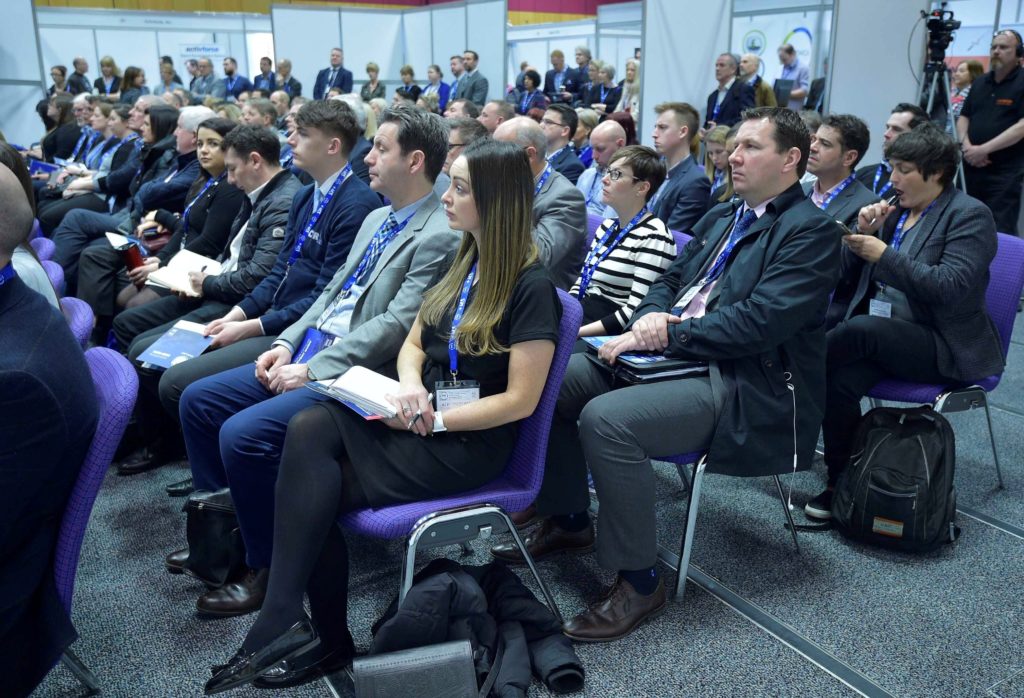 The Opening Keynote Address yesterday was given by Colin Sinclair, Chief Executive Officer at NHS National Services Scotland.
Colin spoke in great depth on how supply partners are fundamental to the delivery of healthcare services and gave delegates an insight into how NHS National Services Scotland is supporting Scotland's health and care priorities.
On Twitter Mr Sinclair posted:
"I was delighted to open the keynote sessions at the P4H Scotland event. A great opportunity to highlight the challenges for health and care in 2019 and demonstrate how procurement can be part of the solution"
Jim Miller, Procurement Commissioning & Facilities Director, NHS Scotland, said that the event was a "great day with a real buzz in the room".
During his session he reflected on P4H Scotland 2018, urging delegates to carry on having broader conversations around issues like the collapse of Carilion, global warming and Brexit.
He also spoke about his "Pledge" ahead of P4H 2020 stating that he will begin scope for a supplier development programme and that moving forward he aims to meet with key suppliers once a month. After sharing his "pledge" he then asked the audience what procurement and supply partners can do collectively to support Scotland's Health sector.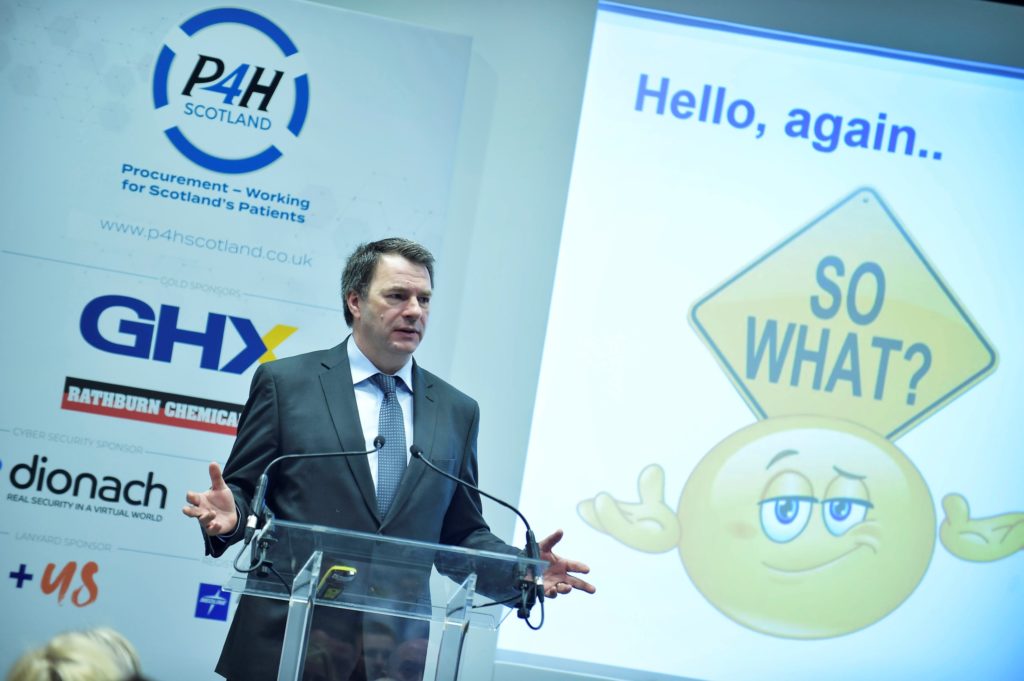 Event Highlights
Alongside the Keynote Arena, the event hosted 15 training sessions across 3 training zones and 4 Networking Zones, where professionals met to discuss the wealth of innovation shown in the Product Showcase.
Our event sponsor GHX also hosted a session in the Professional Procurement Skills Zone. Chris Norman, Key Account Manager, presented "Delivering Patient Safety and Efficiencies through Inventory Management and Web Requisitioning" which was incredibly well received.
Other sponsors on the day included: Dionach, Rathburn Chemical Ltd, +us, Medline and Cannon Hygiene.
Join us at a P4H event near you…
The main focus of the P4H events is to enhance the capabilities of procurement personnel and showcase innovative suppliers across the UK & Ireland.
Simon Burges, Chief Executive Officer of BiP Solutions, is excited about the future of the P4H events. Post P4H Scotland he said:
"Now in its second year, P4H Scotland – The Procurement Event For Health in association with NHS National Services Scotland, plays a vital role in connecting industry with Scotland's leading NHS procurement professionals. This year we welcomed over 700 delegates, who collectively and in collaboration play a vital role in achieving today's public procurement objectives."
Would you like to join us at a P4H event?
P4H Ireland takes place on 4 April and P4H England takes place on 12 July. Tickets are FREE for public sector delegates.
For private sector prices, visit the P4H Ireland and P4H England websites.
If you would like to invest in the development of new and existing business opportunities by participating in this important event, call 0845 270 7066 to find out more.