Procurex Scotland Engage 2020 and the 16th Annual Scottish Government National Procurement Conference saw over 1200 attendees come together last week in the first ever virtual Procurex Scotland and Scottish Government National Procurement Conference.
With almost 40 sessions and 35+ exhibition booths, this hugely important one-day conference provided attendees with an invaluable insight into the latest developments and opportunities taking place across Scotland.
At the Keynote Arena, Kate Forbes MSP, Cabinet Secretary for Finance made the opening address. She said procurement has the capability to help Scotland live up to its hopes and its dreams – a theme that ran throughout all the keynote addresses.
Ms Forbes discussed how the public, private and third sectors had all been affected by COVID-19 but warned that the pandemic was not only the challenge to be faced as she highlighted uncertainty arising from Brexit.
However, there was reassurance for suppliers, with Ms Forbes saying: "Be assured that from policy to legislation, to updates to our systems, such as Public Contracts Scotland everything will be fit for purpose, allowing you to carry out your procurement in January just as you did in December."
Noting that the public sector spend stands around £12.6 billion a year and supports over 100,000 jobs, the Secretary said: "Now is the time to build in greater resilience to our supply chains and that will be critical to our forward-looking approach.
"We want to create a vibrant, dynamic and innovative supply base, one which will help us create jobs, grow businesses, benefit our local communities and deliver on our climate obligations."
Ms Forbes concluded her keynote with a call for innovation. She said: "I would urge you to be as creative as you can be in developing solutions to help grow our economy, to create jobs and to respect our environment. Those are the fundamentals of the power of procurement."
Next was Leslie Evans, Permanent Secretary to Scottish Government, who highlighted the achievements of Scotland's well-being framework – the National Performance Framework.
She described the National Performance Framework as "Scotland's way of bringing together the long-term outcomes that we want government, public services and ultimately all of Scotland to work towards.
"I talk about the National Performance Framework as our North Star because its aim and common purpose guides our actions at all times."
Ms Evans said the National Performance Framework was underpinned by a set of values: kindness, dignity, compassion, respect for the rule of law and openness and transparency. These values helped to maintain its ambitions even during challenging times.
She explained: "The COVID-19 pandemic has been a real test for the National Performance Framework. We could very easily have lost sight of that long-term vision, especially during such fast-paced and unusual times.
"And yes, the pandemic will throw up learning that we will want to incorporate and reflect in our approach going forward but the Framework continues to provide us with direction, with resilience, and assurance. 
"Ultimately, the National Performance Framework is helping to ensure that we are best placed to address challenges, adapt to change and make a positive difference to the well-being of Scotland."
Gary Gillespie, the Scottish Government's Chief Economist, followed and tackled the topic of Economic Restart and Recovery.
Mr Gillespie said at the start of lockdown, it was estimated the economy would contract by about 33% and about 900k people, employed and self-employed would be affected. However, the actual figures revealed the economy contracted by about 25% during lockdown. Over 900 thousand jobs were impacted through furloughed workers and self-employed people who couldn't work during lockdown.
He concluded his keynote by calling for greater agility and innovation: "In living with the virus and the restart of the economy, we've got to be adaptable, we've got to continue to innovate, we've got to work safely to enable confidence for both workers and consumers."
Dermot Rhatigan, Deputy Director for Manufacturing and Industries for the Scottish Government used his keynote to focus on the subject of Supply Chain Resilience and Development and outlined the Scottish Government's programme for building back a fairer, greener and stronger Scotland.
He told attendees that while tackling COVID-19 remains the immediate priority, Ministers are clear that there must be planning for economic and social recovery by taking action now to build recovery and greater resilience.
Mr Rhatigan said: "Ministers have established a new national mission to create new, high-quality greener jobs. This mission is underpinned by significant investment in our national infrastructure to help secure the economic benefits of the green transition.
"An immediate priority will be analysis of existing supply chains, identification of opportunities for increased local capability and enhanced resilience."
Looking at the impact of COVID-19, he said that lessons have been learned that would ultimately lead to improved outcomes for supply chains. He said: "I believe that the (COVID) experience can be a catalyst for change in our supply chains, change that leads to better resilience, better value for money, more innovation and improved outcomes."
The final keynote address was delivered by Nick Ford, Director for Procurement and Property for the Scottish Government and told Procurex Scotland that procurement has a critical role to play in securing a long-term recovery through professional excellence.
Mr Ford spoke about the 'power of procurement' and the crucial role it can play in improving the lives of the Scottish people.
He said: "This is our time to rise to this challenge. Leveraging the power of procurement to deliver better impact and outcomes for the people living in Scotland.
"We want our actions and our contracts to be good for business and their employees, good for society, good for places and communities, and open and connected.
"Through the creation of innovation partnership, we've been able to focus on services in communities, reduce pressure on the NHS, eliminate unnecessary travel time for patients but also provide economic growth and jobs in Scotland, working in those SMEs."
The keynote was also hosted two lively panel debates featuring keynote and other guest panelists. The first looked at Upcoming Challenges for Scotland and the second  The Procurement Vision for the Public Sector in Scotland – both of which delivered some key insight and guidance.
Though the event was not held within its usual format and structure, Procurex Scotland Engage demonstrated the how a successful virtual event can still harness the power of being people together.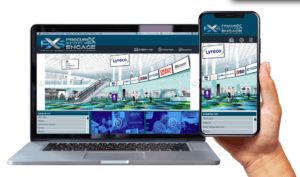 Whilst we don't know with any certainty when more traditional physical events will able to return, the overwhelming feedback has been that this was one of the best BiP Solutions' virtual events so far.
For more information on our events, visit our BiP Events Diary.