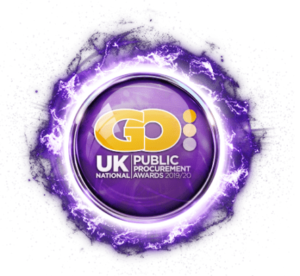 The finalists for the UK National GO Awards have been announced.
Celebrating the best in all aspects of public procurement, the UK National GO Awards presentation ceremony will take place at the Hilton Metropole in Birmingham on 30th April. The standard of entries this year was very high, so we would like to extend our congratulations to all nominees, and thank everyone who entered.
All entries have been reviewed by our judging panel comprised of experts from across UK procurement. You can learn more about the judges here. We would like to thank all members of the panel for their time.
The full list of finalists is as follows:
GO Best Service Award – Medium and Large Organisations
Lyreco
Warmworks Scotland
Crown Commercial Service
NHS Shared Business Services
Hays and Birmingham City Council
EDF Energy, CCS, SP, TEC and NEPO
GRI
GO Best Service Award – Micro and Small Businesses and Third Sector Organisations
Re-Tek
AdviseInc Ltd.
NHS Shared Business Services
Ingenica Solutions and Taunton and Somerset NHS Foundation Trust
Cadence Innova Ltd
GO Emerging Procurement Talent Award
Leidos Supply Limited
Cardiff Council
Scotland Excel
GO Infrastructure Project of the Year Award
Sponsored by Site Diary
Milton Keynes Council
Transport for Wales, Infrastructure Advisory UK Ltd, Steer and Mott McDonald
Transport Scotland:  A737 Dalry Bypass Project
Transport Scotland: A9 Dualling: Kincraig to Dalraddy
Transport Scotland: Forth Replacement Crossing
GO Procurement Innovation of the Year Award – Taking the procurement function forward – Health and Social Care
Sponsored by Blue Badger
CPD
Clonallon Laboratories Ltd
Angus Council/Angus Health & Social Care Partnership
Leicester City Council and Leicester City Clinical Commissioning Group
Thames Valley Police
Leicestershire County Council
London Borough of Tower Hamlets
North Lincolnshire Council
Scan4Safety, Department of Health and Social Care
GO Procurement Innovation of the Year Award – Taking the procurement function forward – NHS Health and Social Care
Sponsored by

 

Blue Badger
Lincolnshire Partnership NHS Foundation Trust
NHS Wales Informatics Service
Lancashire Care NHS Foundation Trust and North West Shared Infrastructure Service and others
NHS Midlands and Lancashire Commissioning Support Unit
University Hospitals of North Midlands NHS Trust and Royal Wolverhampton NHS Trust
NHS Lancashire Procurement Cluster
The Countess of Chester Hospital NHS Foundation Trust: Managed Service for the Provision of Digital Transformation Solutions
The Countess of Chester Hospital NHS Foundation Trust: On-site Surgical and Medical Capacity Solutions
South Yorkshire & Bassetlaw Integrated Care System
NHS South, Central and West Commissioning Support and NHS England
NHS Shared Business Services and University Hospitals Plymouth NHS Trust
NHS Wales Informatics Service
GO Procurement Innovation of the Year Award – Taking the procurement function forward: Local Government, Central Government and Other Organisations
Sponsored by Statkraft 
Angus Council/Angus Health & Social Care Partnership
West London Alliance
Crown Commercial Service
National Commercial Board
Public Power Solutions, Swindon Borough Council
Kent Police and Essex Police
Sandwell Council
The Countess of Chester Hospital NHS Foundation Trust
Transport Scotland
Kirklees Council
Bank of England
GO Procurement Leadership of the Year Award – Local Government & Other Organisations
Sponsored by Lyreco 
Angus Council
University of Strathclyde, DHI, NHS NSS and the Scottish Government
Tunbridge Wells Borough Council
Scotland Excel
STAR Procurement
North Yorkshire County Council
GO Procurement Leadership of the Year Award – Central Government & Healthcare Organisations
Office for National Statistics
The Countess of Chester Hospital NHS Foundation Trust
Bank of England
GO Procurement Project of the year award (above £20m value) – Local Government and Consortia
Sponsored by Epson

 
Angus Council/Angus Health & Social Care Partnership
NEPO
North Yorkshire County Council and Nynet
London Boroughs of Newham, Tower Hamlets, Waltham Forest and Redbridge (WELR)
Taunton Deane Borough Council
North Lincolnshire Council
London Borough of Waltham Forest
Kirklees Council
GO Procurement Project of the year award (above £20m value) – Other Organisations
Sponsored by Epson

 
NHS Wales Informatics Service
Police Scotland
Translink
NHS Wales Informatics Services
Crown Commercial Service: Facilities Management Marketplace
Crown Commercial Service: Media Buying "cutting-edge" procurement
Department for International Development
Department for Environment, Food and Rural Affairs
North of England Commissioning Support Unit and NHS England (Specialised Commissioning, North Region)
Transport for Wales, Infrastructure Advisory UK Ltd, Steer and Mott McDonald
Translink
GO Procurement Project of the year award (sub-£20m value)
Sponsored by PlanLink

 
Renfrewshire Council
Lancashire Care NHS Foundation Trust, North West Shared Infrastructure Service and others
NHS Midlands and Lancashire CSU
Birmingham City University
NHS Midlands and Lancashire Commissioning Support Unit, West Leicestershire Clinical Commissioning Group, Leicester City Clinical Commissioning Group, and East Leicestershire & Rutland Clinical Commissioning Group
Scotland Excel and SEEMiS
Thames Valley Police
NHS Wales – Shared Services Partnership
Sedgemoor District Council
NHS Shared Business Services and University Hospitals Plymouth NHS Trust
GO Procurement Team of the Year Award – Health and Social Care Organisations
NHS Wales Shared Services Partnership – Procurement Serivces
University College London Hospitals NHS Foundation Trust (UCLH)
North of England Commissioning Support Unit
NHS South, Central and West Commissioning Support and NHS England
Northern Care Alliance Procurement Team (Salford Royal NHS Foundation Trust & Pennine Acute Hospitals NHS Trust)
NHS Wales – Shared Services Partnership (NWSSP)
The Countess of Chester Hospital NHS Foundation Trust
GO Procurement Team of the Year Award – Local Government, Central Government and Other Organisations
Sponsored by Banner
Translink: Future Ticketing System (TFTS)
Tyne & Wear Fire & Rescue Services
Network Homes
Crown Commercial Service
Translink: Procurement Team
Crown Prosecution Service: Digital Commercial Team
North Yorkshire County Council
National LGPS Frameworks
Crown Prosecution Service: Procurement and Commercial Services Team
Kirklees Council
Transport Scotland
Leicestershire Police FHQ
Procurement & Logistics Service (a subsidiary of the Business Services Organisation) partnering with all Health and Social Care Trusts and the Department of Health
NHS Scotland National Procurement Equipping Sourcing Team, working with NSS Health Facilities Scotland Equipping Team
University of Strathclyde
GO Social and Community Benefit in Procurement Award – Local Authority, Consortia and Housing
Sponsored by Edenred
Welshpool Town Council
Wirral Council
NEPO
Cardiff Council
North Yorkshire County Council
Liverpool City Council: Liverpool Parklife
Liverpool City Council: Liverpool Adult Learning Service
Tai Tarian
GO Social and Community Benefit in Procurement Award – Other Organisations
Sponsored by Edenred

 
Construction Impact Framework, Salford Royal NHS Foundation Trust and University of Salford
Re-tek UK Ltd
NHS Wales Shared Services Partnership – Procurement Services
Birmingham City University
St Georges University Hospital Foundation Trust
NHS Arden & GEM CSU, West Midlands Combined Authority, NHS Wolverhampton CCG and Social Finance
University of Edinburgh
Scottish Government – SG Procurement, Contract Management & Capability Team
Translink
Department for Infrastructure, Graham Farrans Joint Venture, AECOM